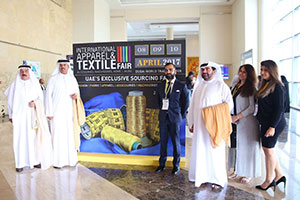 DUBAI, 14 April 2017– The 6th edition of International Apparel and Textile Fair (IATF) hadreceived tremendous support from apparel and textile manufacturers in the country and worldwide. The three-day event that took place from 8th to 10th April 2017 was inaugurated by H.E Butti Saeed Al Ghandi, Second Vice-Chairman of the Dubai World Trade Centre on 8th April at 10:30 am at Zabeel Hall 1, Dubai World Trade Centre.
With more than 100 exhibitors from various countries around the world who participated in the fair, IATF has once again proven its status as UAE's exclusive sourcing fair for textiles and clothing. IATF attracts some of the world's largest manufacturers of fabrics and leading print design studios. Exhibitors were mainly from Turkey, China, Italy, Spain, India, UK and many more.
The fair provides manufacturers and their agents the opportunity to showcase their products to the most influential buyers and designers in the UAE fashion sphere. The event further offers buyers, distributors and designers the opportunity to view a wide range of textiles from the most prestigious global mills.
The 6th edition of International Apparel and Textile Fair had attracted 2980 buyers who were mainly from the UAE and GCC region. A number of visitors came all the way from Oman, Saudi Arabia, Lebanon, Kuwait and Qatar. Other buyers came from all across Asia, African countries, Europe, the USA and Australia.
International industry professionals from prestigious organizations and companies namely Wrap Compliance, Right Source, Sin – Style Innovation and HeliozidOce Emirateshad spoken in a series of talks during these three days. Relevant information on future trends, designs and innovations were provided to visitors by the speakers, in addition to being introduced to Worldwide Accredited Responsible Production (WRAP). Speakers from local institutions of Manipal University, Esmod Fashion Institute, Amity University and American University in the Emirates had also provided the audience further information on various topics about the fashion industry.
A show such as International Apparel and Textile Fair is much needed in the region as the UAE continues to see robust growth in the clothing and textile industry. The last few years had shown remarkable increase in retail sales on apparel, making it as one of the most attractive sectors in the UAE. The apparel industry in the region provides opportunity for international retailers to expand in the UAE. The country is also the world's 11th biggest clothing importer with $4 billion import value. Next to London, Dubai is the second global city having the highest percentage (55%) of international retailers.
IATF's Show Director, Mr. Dilip Nihalani continuously focuses in making the show bigger and diversified by attracting more exhibitors with different product lines every edition to cope with the growing demands of the apparel and textile market in the region. Mr. Nihalani was quoted saying "We are proud to continuously bring in and introduce prominent manufacturers from all across the globe to the clothing and textile buyers and retailers not only here in Dubai or the UAE or the GCC, but the whole of the MENA region. We are glad with the support that we are getting ever since we had started this show in 2014. "
Meanwhile, International Apparel and Textile Fair 7th edition is set to take place on 1st, 2nd and 3rdNovember 2017 for its Autumn/Winter edition. ###
About International Apparel & Textile Fair
International Apparel and Textile Fair – Dubai is UAE's exclusive and premiere platform for sourcing apparels, fashion, fabrics, prints, clothing accessories, machineries and home textiles. IATF is a bi-annual event being organized by Nihalani Events Management.IATF 6th edition had showcasedSpring/Summer 2018 pre-collections and Autumn/Winter 2018 highlights.
Principally a "Trade Only" event, IATF provides a professional and conducive atmosphere to business and networking in response to the need of a dedicated trade exhibition in Dubai, UAE. The show has been designed for a quality event for the fabrics and apparel business in the MENA region.
Source : internationalapparelandtextilefair.com
Leave a comment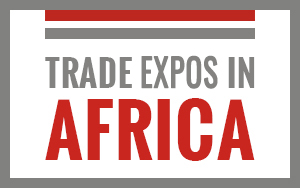 Sign Up for Newsletter
Sign up to receive our free newsletters!
We do not spam. We value your privacy!